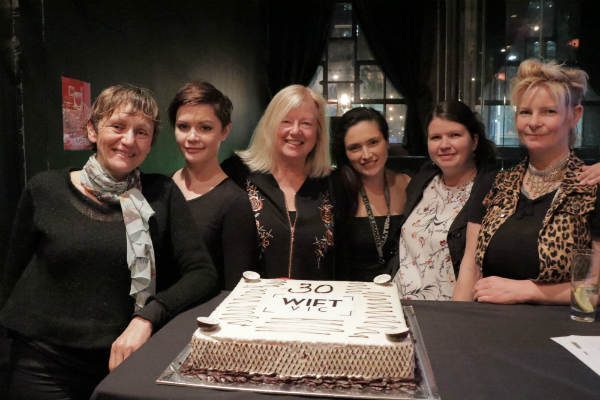 As we celebrate WIFT VIC 30th year, it is a great time to pause and consider how far we've come and to celebrate our achievements. Together, we've been working hard to improve how the organisation serves our members, and we have plenty more in store.
Highlights
November – Christmas pitch party at The Loop Bar
February – a Times Up event tackling sexual harassment in the workplace, with the support from the Art Centre and Film Victoria
May – our annual St Kilda Film Festival panel discussion "Reel Women Make Film"
July – seminar on "The Power of Post Production, with the support of Music and Effects"
Since March – member screenings and networking nights, in collaboration with the Loop Bar
In addition to the events, WIFT Victoria has developed significantly as an organisation, with a 77% increase in our membership. We've updated our logo, emailing system, and member database, as well as creating a new look for our website and monthly newsletter to showcase our members' work and offer ticket giveaways. We're also building a freelancers list to share among our community.



WIFT VIC is focused on improving communications with all our members – and we've sent out a feedback survey to better understand their needs. To support our growth, we've invited members to be part of the sub-committee to help us with events and running the organisation. We'll also continue to develop the administrative side of our Victorian operation, by locating to a permanent office space and building additional resources into our website.
One of the biggest achievements to date has been our involvement in the creation of WIFT Australia, which launched in April 2018. Serving on the national board, we're in regular communication with our colleagues in other states. We also helped on their first initiative, Mentor Her, by matching emerging filmmakers with professional mentors from Victoria.

Looking ahead
We're building partnerships with multiple organisations to collaborate on events and workshops in 2019. These include:
November – our Christmas party and a special film screening
February – sponsorship of the Melbourne Women in Film Festival
March – an A-Z Budgeting workshop around Screen Australia's budgeting requirements
May – our annual "Reel Women Make Film" event at St Kilda Film Festival
Creating and supporting a new mentorship program.
We're planning to continue working closely with WIFT Australia in the year ahead, while ensuring the best interests of our Victorian community. We'll keep you up to date with any progress we make and look forward to an exciting year!