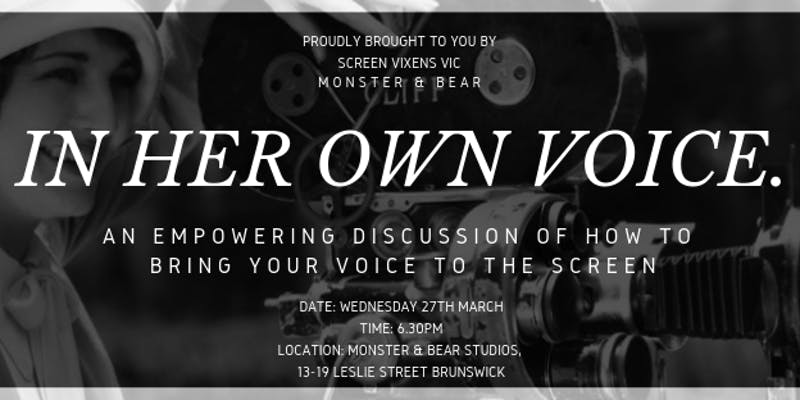 MESSAGE FROM THE PRESIDENT
On behalf of WIFT Victoria, I hope everyone had a wonderful International Women's Day. We hope you were able to not only celebrate women's achievements, but also acknowledge the amazing women around you. Let's continue celebrating and supporting women all throughout the year, not just for one day. ~ Margarita Ivanovsky
MARCH MEMBERS NETWORKING NIGHT
Attention magnificent members! This month WIFT Victoria is holding a facilitated speed networking night for those of you looking to meet potential collaborators. Whether you have a project ready to go or you'd like to offer your skills for an upcoming project, come along and chat to some like-minded screen peeps. Nibbles provided!
DETAILS: 7:30-9pm, March 18th @ The Wolf & I: 152 Chapel Street, Windsor
https://thewolfandiwindsor.com.au/
RSVP (essential): membership@wiftvic.com.au
Hey subscribers, why not become a WIFT VIC member and come on down!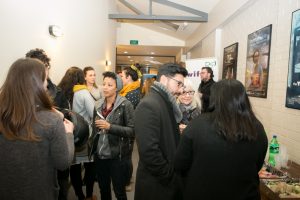 IN HER OWN VOICE
WIFT Victoria is proud to support Screen Vixens' upcoming event, In Her Own Voice. This is a panel event that will discuss how far women in the screen industry have come and where to next. A group of female filmmakers with experience in front and behind the camera, as well as distribution and funding bodies, will provide valuable insights as to how we bring female voices and stories to the forefront in film and television.
Moderated by Michelle Brasier, the panel features:
Lee-Ann Woon, Madman Entertainment
Alyce Adams, Screen Australia
Magda Wozniak – Screenwriter
This is a FREE event. Unlike many other Screen Vixens events, it is open to EVERYONE, not just producers. Supported by Monster & Bear and WIFT Victoria.
DETAILS: 6:30pm, Wed 27 March @ Monster & Bear Studios: 13-19 Leslie Street, Brunswick
Book Now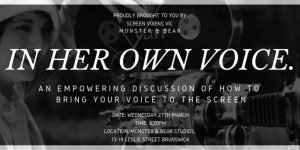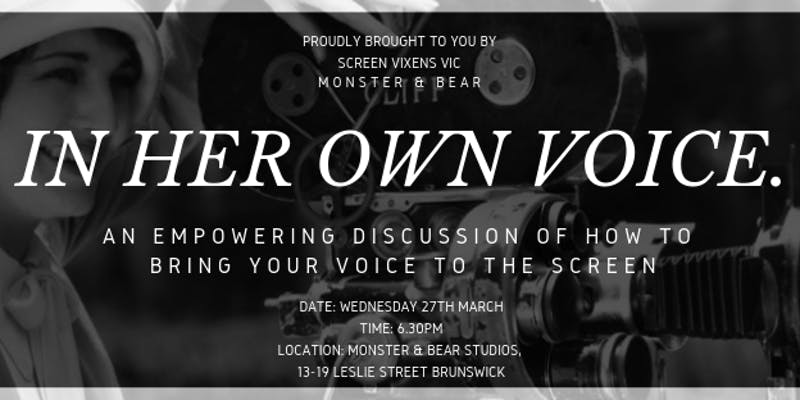 SUBCOMMITTEE CALL-OUT
Hey Members!
For those of you passionate WIFT-ers that would like to help on one or more of our events, and/or be part of a sub-committee team, please express your interest by clicking on the link below. We'd love to hear from you!
https://goo.gl/forms/QSRx89c5Wn8bvQ823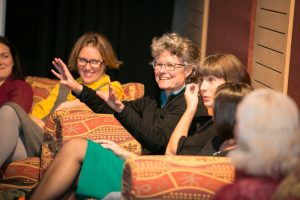 COMPTON SCHOOL 3-2-1 WORKSHOPS – 30% Discount
Founded in 2017 by Dr David Court, Compton School endeavours to help people build viable creative businesses and lead sustainable creative lives. It is the BUSINESS SCHOOL FOR CREATIVE PEOPLE. Not just the traditional arts but media, entertainment, music, design and communications.
Between April and June, Compton School is holding a series of three workshops, funded in part by Film Victoria.
3-2-1 is designed to help early career screen practitioners come to grips with the business of screen production and develop the skills they need in their creative practice and their business activities. It aims to help you find your place in your chosen industry, make new connections, understand your opportunities and build your career.
Compton School has very kindly offered a 30% discount on the $600 fee to current WIFT Victoria members.
To take advantage of this incredible offer, please email our Memberships Officer at membership@wiftvic.com.au
For information on the course:
https://compton.school/the-work/3-2-1-workshop-2019/
Read what past students have to say about the program:
https://compton.school/past-courses/
Hey subscribers, why not become a WIFT VIC member and enjoy this exclusive discount!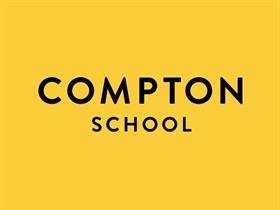 ASE Victoria presents FREELANCE SURVIVOR – Giveaway
ASE Victoria is excited to present Freelance Survivor, a one-day workshop featuring Monica Davidson. This is a once-in-a-lifetime opportunity for creative practitioners to change how you work in the entertainment industry.
Monica is a business consultant with 25 years experience. Participants will also get free lifetime access to resources supplied at the workshop.
This event is funded by Film Victoria. Catering included.
To secure your FREE place, email us at membership@wiftvic.com.au
DETAILS: 9am-5pm, Sat 23 March @ Music & Effects: 1 Yarra Street, South Yarra
**Hey subscribers, why not become a WIFT VIC member and get on board with this marvellous giveaway!**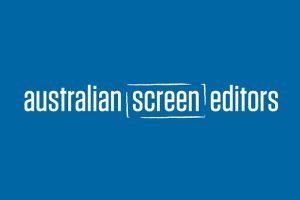 DEADLINES
Dame Changer Screen Tank   15th March
http://www.damechanger.com/screentank/
ADG Awards   15th March
https://adg.org.au/competitions/2019-adg-awards-submission
AWGIE Awards   18th March
https://awg.com.au/competitions/the-52nd-annual-awgie-awards-call-for-entries
Screenworks' Screen Composing Bootcamp   24th March
https://screenworks.com.au/event/screen-composing-bootcamp-2019/
Melbourne International Film Festival     29th March
http://miff.com.au/submissions
Revelation Film Festival Academic Conference  31st March
http://revelationfilmfest.org/academic-conference
Revelation Film Festival      1st April
http://revelationfilmfest.org/call-for-entries
Writer Placements on Neighbours   3rd April
https://www.film.vic.gov.au/funding/business-skills-support/production-skills#writer-placements-on-neighbours
Film Victoria's Project Development                           4th April
https://www.film.vic.gov.au/funding/funding-for-development/
Screen Australia's Documentary Development  5th April
https://www.screenaustralia.gov.au/funding-and-support/documentary/development/documentary-development