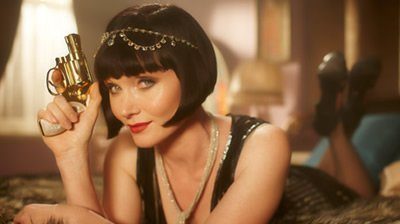 Producer FIONA EAGGER & writer YSABELLE DEAN from the acclaimed ABC TV and Every Cloud Production "Miss Fisher's Murder Mysteries" will be "In Conversation" at our AGM followed by a Q&A where WIFT members can hear the inside story of this gorgeously costumed, female character driven production, shot in Melbourne & set in the 1920s.
Please join the Board & members of WIFT Victoria & women from Victoria's busy screen production industry to celebrate  Christmas with an exploration of the success of the fabulous "Miss Fisher" series. Hear about what WIFT(Vic) has been up to this year & plans for 2014.
WHEN: 6pm Tuesday 19 November 2013
WHERE: The Apartment 401-405 Little Bourke Street (near Queen) in the city
WIFT will provide a free Christmas drink (or two) & excellent food is available to be purchased for dinner between 6pm and the start of the AGM at 7pm.
Entry is free for WIFT members or you can join at the door. Please RSVP to wiftvic.info@gmail.com by Sunday 17 November.