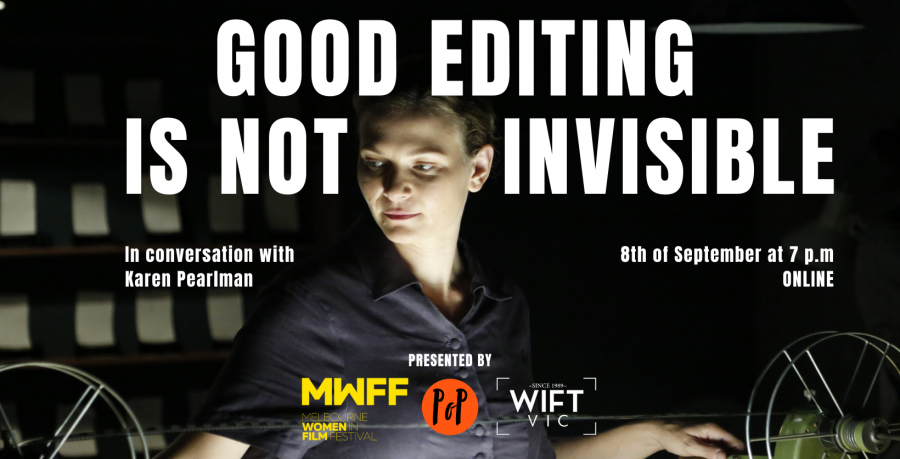 In this conversation, Karen Pearlman, director, editor and film scholar, will be sharing her insights with film historian, Julia Vassilieva. Their discussion will focus on Pearlman's recent trilogy: A Woman with an Editing Bench, After the Facts and I Want to Make a Film about Women. These films shed light on early Russian film editors and directors – Elizaveta Svilova, Esphir Shub, Lilia Brick – whose work has been eclipsed by more famous male masters of montage, such as Dziga Vertov, Sergei Eisenstein or Vsevolod Pudovkin. While Pearlman's films reverse this historical bias, they also make a powerful argument: good editing is not invisible, and neither are the women who do it.
WIFT Victoria is proud to present this event with Power of Post and Melbourne Women in Film Festival
Wednesday September the 8th, at 7 p.m
Zoom link will be sent closer to the date
Donations welcomed!
Book Now!
About guest Karen Pearlman:
Karen Pearlman, writes, directs and edits screen productions, and researches creative practice, cognition, and feminist film histories. The films of her trilogy of short films about Soviet women editors have, between them, won three best directing awards, including one from the Australian Directors Guild, three ATOM Awards, 2 best editing awards from The Australian Screen Editors Guild and 16 awards from film festivals around the world. Karen is a lecturer in screen production at Macquarie University, a former President of the Australian Screen Editors Guild, a regular contributor to the This Guy Edits video channel, and the author of Cutting Rhythms, Intuitive Film Editing (Focal Press, 2016).
About moderator Julia Vassilieva
Julia Vassilieva is film historian based at Monash University. Her research interests include Russian avant-garde and montage; work of Sergei Eisenstein; narrative theory; cinema and the brain; cinema and philosophy. She is an author of Narrative Psychology: Identity, Transformation and Ethics (Palgrave Macmillan, 2016) and a co-editor of three volumes: The Eisenstein Universe (with Ian Christie, Bloomsbury 2021), Beyond the Essay Film (with Deane Williams, Amsterdam University Press, 2020) and After Taste: Cultural Value and the Moving Image (Routledge, 2013). Her publications also appeared in Camera Obscura, Film-Philosophy, Continuum: Journal of Media & Cultural Studies, Screening the Past, Critical Arts, Kinovedcheskie Zapiski, Rouge, Lola, Senses of Cinema, History of Psychology and a number of edited collections.